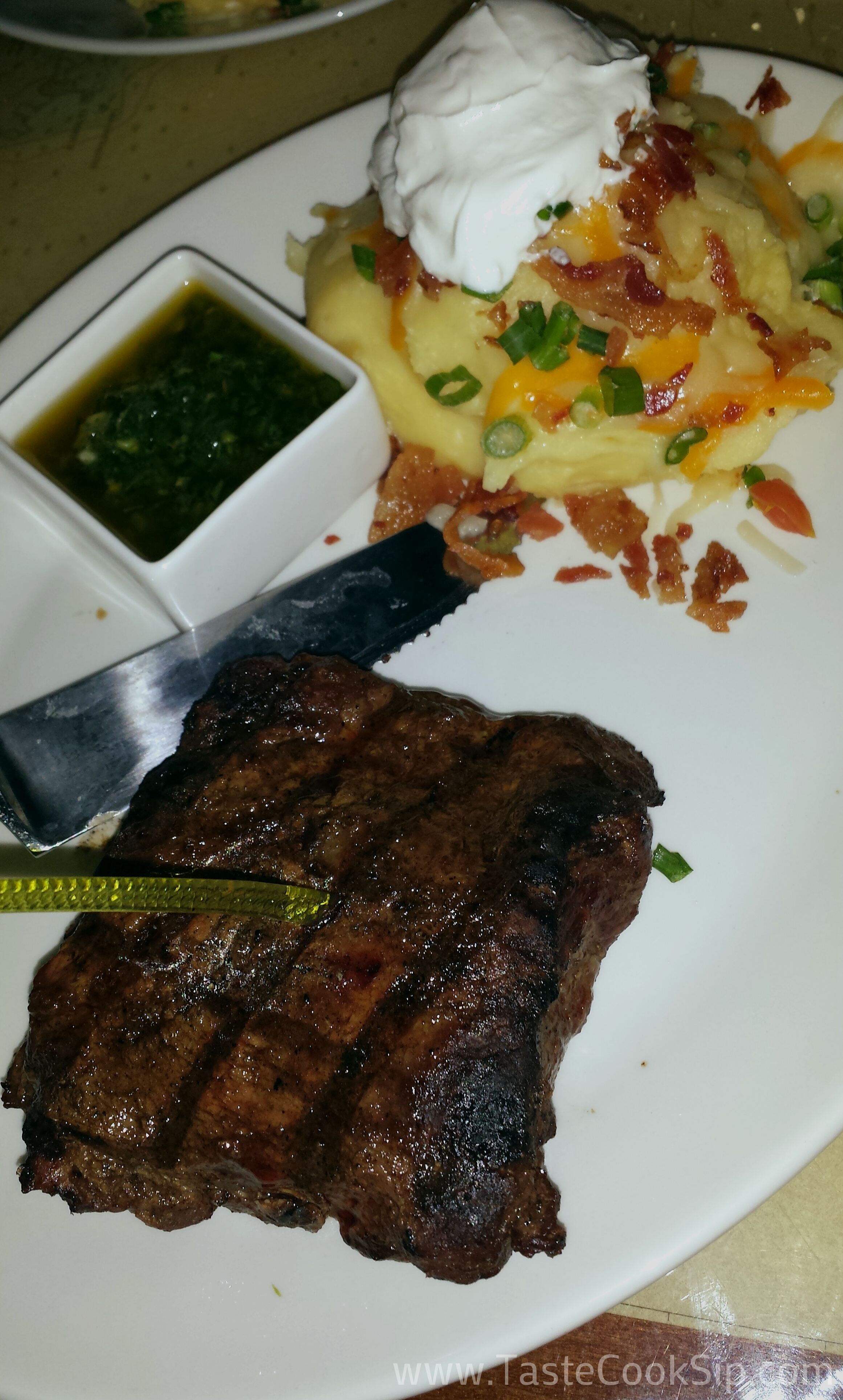 A 10 oz. flat iron steak grilled to order served
with chimichurri sauce with loaded mashed potatoes.
GRILLED FLAT IRON STEAK with Chimichurri Sauce
Margaritaville Restaurant Copycat Recipe
Makes 4 servings
Steak:
1/2 cup extra virgin olive oil
2 tablespoons Worcestershire sauce
2 tablespoons soy sauce
2 tablespoons balsamic vinegar
2 cloves garlic, sliced
1 flat iron steak
Chimichurri:
1 cup coarsely chopped parsley
3 tablespoons sherry or red wine vinegar
2 large cloves garlic
1 teaspoon crushed red pepper
salt and freshly ground pepper
1/2 cup extra virgin olive oil
For the steak:
Combine the olive oil, Worcestershire sauce, soy sauce, balsamic vinegar and garlic, whisking to emulsify. Put the steak in a gallon plastic bag and add the marinade. Refrigerate overnight. Remove the steak from the marinade and let it come to room temperature. Preheat your grill to medium high. Cook the steak for six minutes on the first side. Rotate it 45 degrees and continue cooking for an additional six minutes. Flip the steak and cook another six to eight minutes or until the internal temperature is 135 degrees for medium rare. Remove from the grill and let the steak rest for 10 minutes before slicing.
For the chimichurri:
Combine the parsley, cilantro, vinegar, garlic and crushed red pepper in a food processor. Process it until it's a rough paste. Season the mixture with salt and pepper. Put the sauce in a bowl and add the olive oil. Let it stand at least 20 minutes or refrigerate it overnight (
let it come to room temperature before serving
).