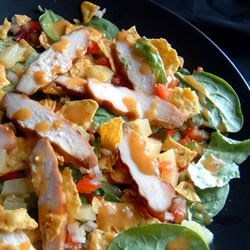 MONTEGO SALAD
Calypso Restaurant Recipe
Salad:
2 ounces baby greens
4 ounces chicken salad
1/2 cup fresh fruit
2 ounces poppy seed dressing
Place baby greens on serving plate. Place chicken salad in the center of greens. Arrange sliced fruit around the base of the chicken salad. Place poppy seed dressing in the center.
Poppy Seed Dressing:
8 ounces sour cream
1 teaspoon lemon juice
1 teaspoon poppy seeds
2 teaspoons sugar
1 tablespoon Grenadine
Combine all ingredients in a mixing bowl. Mix well. Chill.
Tropical Chicken Salad:
1/3 cup minced celery
1/4 cup minced green onions
1/4 cup chopped pecans
1/3 cup mayonnaise
1/3 cup minced pineapple
1/4 teaspoon curry powder
1/4 teaspoon Worcestershire sauce
1/4 teaspoon lemon juice
salt and white pepper to taste
1/2 teaspoon hot sauce
8 ounces chicken breast, cooked and coarsely chopped
In a stainless steel bowl, combine mayonnaise and pineapple with other wet and dry seasonings. Mix well to dissolve curry. Cut all vegetables and combine with diced chicken and other ingredients. Mix well.